Genomic Technologies Facility
2025 Roy J. Carver Co-Laboratory, Iowa State University
1111 WOI Road, Ames, Iowa 50011-1085
Email:
Dear GTF customers,
Due to COVID-19 concerns, CCL no longer have front desk students. If you need to access GTF during business hours, please send your name and ISU ID number to GTF Staff (gtfstaff@iastate.edu). We will request CCL building access for you and you should be able to enter the building using your ISU ID few days after we request access from FPM.
Sorry for any inconvenience this may cause you and thank you for your patience during this time!
GTF Staff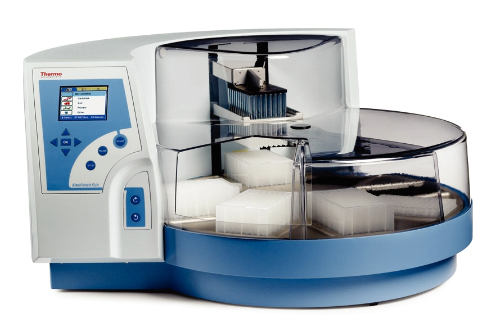 The BioSprint 96 provides automated DNA purification of 96 samples in one hour using MagAttract technology.
The Genomic Technologies Facility (GTF), part of the Center for Plant Genomics, provides expertise and equipment to conduct high-throughput research. Our services and equipment include:
High Throughput Nucleic Acid Manipulation

Qiagen BioSprint 96 high-throughput DNA/RNA extraction system
Eppendorf AF2200 Plate Reader (absorbance and fluorescence based quantification)
Lyophilization and Tissue Grinding

PCR Instruments

Two MJ Research 384 well 4 block DNA engine tetrads
Two Applied Biosystems 384 well 2 block Gene Amp PCR
Roche Lightcyler 480 RealTime thermocycler

Miscellaneous Services and Instruments

Blue Pippin and E-gel size selection systems
Agilent Bioanalyzer
Eppendorf epMotion M5073 liquid handling system
GTF Staff are available to answer questions regarding the use of technologies offered by the GTF and provide consultation on experimental design.
Before accessing facility equipment and services, users are required to provide a signed and approved user agreement to the Facility Manager. The fees section provides information about the fee structure.