Genomic Technologies Facility
2025 Roy J. Carver Co-Laboratory, Iowa State University, Ames, Iowa 50011-3650
Tel: (515) 294-7491 | Fax: (515) 294-5256 | Email: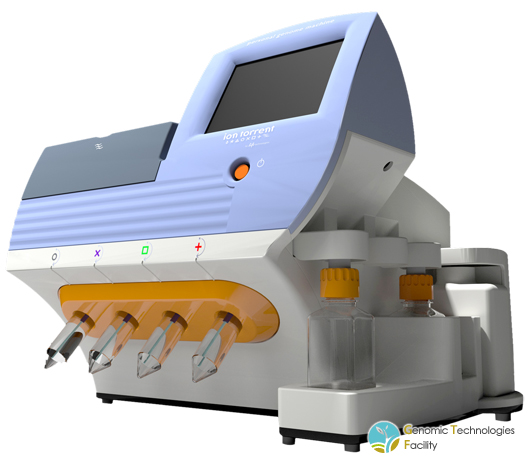 The
Ion Torrent
™ Personal Genome Machine™ (PGM™) is a semiconductor next-generation sequencer with fastest run times, at the most affordable price, of any next-generation sequencer.
More...
The Genomic Technologies Facility (GTF), part of the Center for Plant Genomics, provides expertise and equipment to conduct high-throughput research. Our services and equipment include:
Single SNP genotyping
Gene mapping via innovative application of BSA
NimbleGen Comparative Genomic Hybridization (CGH)
Two RealTime thermocyclers


Roche Lightcycler 480
Stratagene Mx4000
GTF Staff are available to answer questions regarding the use of technologies available from the GTF and provide consultation on experimental design.
Before accessing facility equipment and services, users are required to provide a signed and approved user agreement to the Facility Manager. The fees section provides information about the fee structure.