CAU-ISU Maize Genetics & Breeding Workshop
2025 Roy J. Carver Co-Laboratory, Iowa State University
1111 WOI Road, Ames, Iowa 50011-1085
Tel: (515) 294-7491 | Email: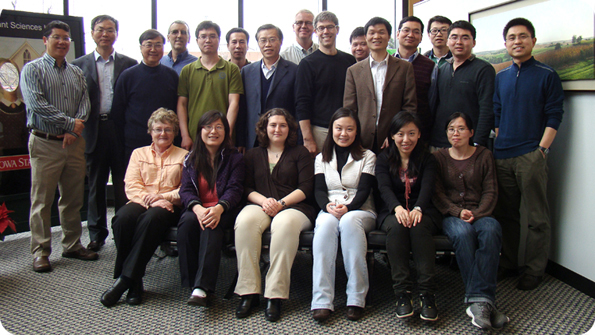 On 20-21 March 2012 The Center for Plant Genomics hosted a delegation of scientists from National Maize Improvement Center of China at China Agriculture University in Beijing. This workshop was designed to "kick-off" the newly formed joint CAU-ISU Center of Maize Genetics and Breeding. A Memorandum of Understanding (MOU) establishing the new center was signed by Presidents Bingsheng Ke (CAU) and Steven Leath (ISU).
The following CAU scientists participated:

Dr. Jiansheng LI, Professor
Dr. Shaojiang CHEN, Professor
Dr. Weiwei JIN, Professor
Dr. Jinsheng LAI, Professor
Dr. Feng TIAN, Professor
Dr. Mingliang XU, Professor
Dr. Xiaohong YANG, Associate Professor
Participating ISU scientists included:

Dr. Pat SCHNABLE (Baker Professor, Agronomy/Director, Center for Plant Genomics)
Dr. Phil BECRAFT (Professor, GDCB/Agronomy)
Dr. Candy GARDNER (Assistant Professor, Agronomy/Research Leader, USDA Plant Introduction Station)
Dr. Kendall LAMKEY (Chair & Pioneer Distinguished Chair in Maize Breeding, Agronomy)
Dr. Carolyn LAWRENCE (Collaborating Assistant Professor, GDCB/Director, MaizeGDB)
Dr. Sanzhen LIU/刘三震 (Post-doc, Schnable ab)
Dr. Mike MUSZYNSKI (Adjunct Assistant Professor, GDCB)
Dr. Tom PETERSON (Professor, GDCB/Agronomy)
Dr. Kan WANG (Professor, Agronomy/Director Center for Plant Transformation)
Dr. Wei WU/吳薇 (Manager, Genomic Technologies Facility/Schnable Lab)
Plus many graduate students and others.
The schedule of activities included the following presentations and tours:
Presentations:

(ISU) Sanzhen Liu, "Presence/Absence Variation and its phenotypic consequences"
(CAU) Jiansheng Li, "An introduction to CAU's National Maize Improvement Center"
(CAU) Shaojiang Chen, "Progress of Double Haploid Breeding in maize"
(ISU) Phil Becraft, "Genetic Control of Cell Differentiation in Maize Endosperm Development"
(CAU) Mingliang Xu, "Towards Map-based cloning of resistance QTLs in maize"
(CAU) Jinsheng Lai, "Genetic imprinting in the maize endosperm"
(ISU) Mike Muszynski, "Genetic and genomic approaches to define plant developmental networks"
(CAU) Feng Tian, "Integrating the advantages of linkage analysis and association mapping for complex traits dissection"
(ISU) Tom Peterson, "Genome rearrangements induced by the maize Ac/Ds transposable element system"
(CAU) Xiaohong Yang, "The Genetic Architecture of Oil Content in Maize Kernel"
Tours:

Tour of the GTF led by Wei Wu
Tour of the PTF led by Kan Wang
Tour MaizeGDB led by Carolyn Lawrence
Tour of the USDA Plant Introduction Station led by Candy Gardner